GIVING TODAY SUPPORTS HEALTHY PROGRAMS NOW — AND INTO THE FUTURE
It is important for our community to envision the short-term and, most importantly, long-term effects of not meeting our Annual Commitment to our schools. Each graph illustrates a distinct picture of our schools' future—one alarming and one hopeful—based on how we give today.

We worry for our students, the stability of their educational opportunities, and for the talented teachers who we have come to know and love.  Read the Statement to the Board – December 8, 2020.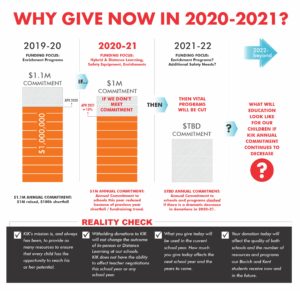 Why is it important to give to KIK now?