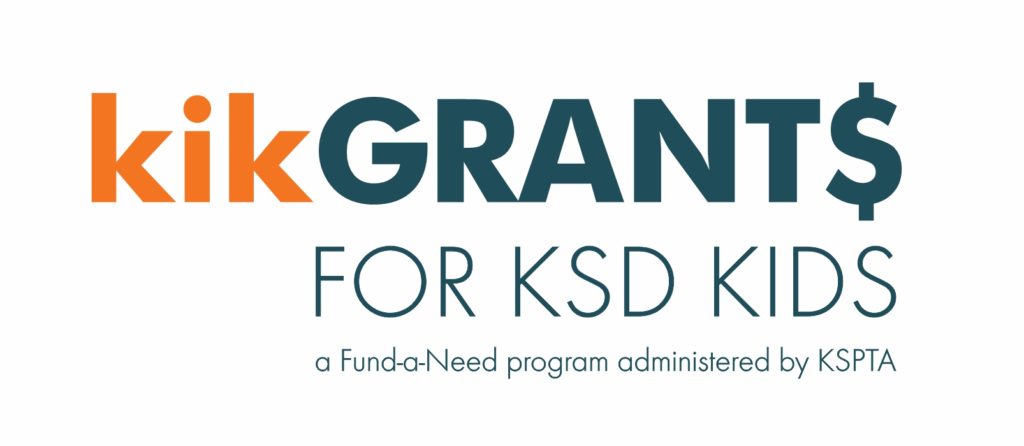 Donations will fund grants to provide innovative and creative programs and resources for our Bacich and Kent students. 

Grant funds are raised by KIK and managed with the help of the KSPTA. Together we can further enhance Bacich and Kent students' classroom experience by raising dollars for this Fund-a-Need program.

Check out this past year's KIK Grants awards and more information on Fund-a-Need projects and programs.
Again this year, KIK looks forward to providing grants for our students, and we thank the KSPTA for administering the grant process from application review to award. Typically, the KSPTA has funded and managed this valuable district wide grant program, but due to ongoing decreased budget limitations, the KSPTA is currently unable to provide such grants. KIK looks forward to raising these funds during the 2021 Spring Auction's Fund A Need to once again provide a grant program administered by the PTA.  Our community would like to ensure that students can benefit from expanded resources and programs.
Grants are a great way to inspire teachers to design innovative, student centered projects and to empower staff to enhance their students' classroom experience in creative ways. Students across grade levels at Bacich and Kent will benefit from these grants.
Grants from 2020-2021 – Examples include:
Reading Interventions and Math Assessments: to identify and mitigate learning loss

Anchor Texts for Classrooms at Bacich that support the Equity and Inclusion Curriculum

4th Grade Poetry Unit

Mr. S. Kindergarten Dance

Mr. S. 1st Grade Storytelling Unit

SuperFlex curriculum for 2nd grade

Author Visits

8th Grade Take Home Science Kits

Diversity/Racism/Ethnicity/Social Justice Books

Physical Education and Recess Games and Materials: for covid protocols

Science/Art Project Supplies
Prior to 2020, grants have included:
3D printing machine for Mr. Besonnette's IDEA Lab

A 4th grade poetry unit

Enhancements to Bacich and Kent gardens

New cameras for the Kent student journalism broadcasts

Author visits
Help us fund programs and resources like:
Science and technology equipment

English language arts resources

Author visits

Math tools and resources

PE equipment

Art supplies
KIK Grants will give our students access to STEAM initiatives, expose them to unique learning tools and resources, and provide creative and artistic activities. What a great way to support and directly impact our students' learning! 
The possibilities for new and exciting grants depend on funding – can you help? Teachers will apply for grants to a joint KIK/KSPTA grant committee starting this spring. We will update the community on the grants throughout the 2021/2022 year via the KIK and KSPTA Facebook pages, website and emails.  The grant committee will ensure that grants will be spread evenly amongst all grade levels.
Quote from Farah Maisonneuve, 7th grade Science Teacher
"I feel so grateful to KIK for the huge role they are playing in outfitting the 7th grade science classroom. My cabinets are steadily filling up with high quality science equipment, without which it would be nearly impossible to provide students with hands-on labs and experiments. My most recent delivery includes glassware which is essential to studying the fun and exciting world of chemistry! Thank you to the parents who helped make this possible."
Quote from Michael Bessonette, Bacich IDEA Studio Teacher:
The KSPTA grants have supported the IDEA Studio with purchases of creative, design-focused items, like a 3D carver. Students love using CAD software to design and carve 3D tiles of their favorite Bacich memories.