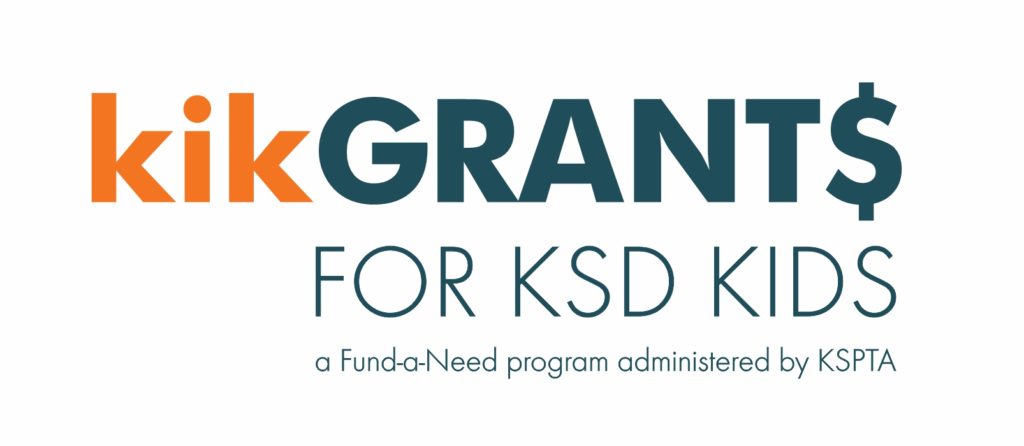 Program Overview & Deadline
The Kentfield Schools Foundation (KIK) has raised funds for 2021-2022 school year for a grant program that will be administered by the Kentfield Schools PTA. Through kikGRANT$, KIK and the KSPTA can offer specific funding and greatly enhance the educational experience of our students. KIK and the KSPTA encourage innovative ideas for education and hope that grants will meet the needs of our schools, teachers, and students interested in trying new things in the classroom.
Any KSD staff member may submit a grant proposal, and parents and students may approach a staff member or administrator to sponsor a proposal. See section V for further guidelines.
Grant proposals will be accepted and awarded in two rounds:
Grant awards announced: September 13, 2021
First Round:  Fund-a-Need Grants
Building Blocks
Kindergarten
 
Author Visit for All School Read & 50 Copies of Book
5th-8th grade
Supporting Social Emotional Learning with We Thinkers
K- 1st grade
 
Photo Printer for Art at Kent
5th-8th grade
Kimochi Training
K- 3rd grade
 
Scholastic News Subscriptions
5th – 8th grade
WildCare Enrichment Program
1st grade
 
Fidgets for Students
5th – 8th grade
Kent Tutors Marin Administrative Costs
2nd-4th & 8th grade
 
Kent Newspaper Club- The Kent Scoop
5th-8th grade
Pixton Subscription for all 3rd Graders
3rd  grade
 
Monitor for Improved Parent Communication
5th – 8th grade
Bacich Reading Intervention Materials & Training
3rd-4th grade
 
Refurbish Garden and Develop Chicken Education
5th-8th grade
Poetry With Claire Blotter
4th grade
 
Classroom Library Books
7th-8th grade
5th Grade Versatile Math Kit
5th grade
 
Supplemental Classroom Library Books
7th-8th grade
Math Picture Books for Fifth Grade
5th grade
 
 
 
Round Two Application Deadline: November 22, 2021 – 4:00pm. Cannot accept late applications.

Grant awards announced: December 13, 2021
For questions about a proposal: please contact Grant Coordinator, Lorin Bentley, grants@kspta.org. ** Funds must be used before the end of the 2021-2022 school year.
Ideas for Grant Proposals
Instructional tools and supplies (such as manipulatives, books, software licenses)

Special projects that support curriculum

Social emotional supports/programs

Leadership & professional development seminars/classes for staff, parents, or students

Projects that integrate STEAM concepts into core curriculum

Project Based Learning initiatives
Who May Apply for a Grant
Teachers, staff, and administrators may submit proposals. Parents and students may submit a proposal with a teacher, staff member or administrator's approval.
How to Apply for a Grant
Complete the Grant Application via this Google Form.
Reminders:

Be sure to include a recent quote

for your program/material(s) that includes tax, shipping & handling, and anything else that contributes to the total cost of your request. Attach additional sheets as necessary. **Please check multiple vendors to compare costs.**

Applications will require the approval of your school principal. Please secure this approval before submitting the proposal and check the appropriate box on the form.

No late applications will be accepted.
The Decision Process
The Grant Committee is composed of the KSPTA President, the KIK President, a Grant Coordinator, KSPTA and KIK board members with children attending Bacich and Kent, one teacher from Bacich, and one teacher from Kent.

The Grant Committee will review each application, collect additional information when necessary, and vote to award funds.

The Grant Committee will meet after the grant submission deadline to review each proposal using the following criteria and guidelines:
          a.  Individual(s) submitting grant requests must be:
               i. member(s) of the KSD staff in good standing; OR
               ii. current parent(s) in the KSD with staff sponsorship; OR
               iii.current student(s) in the KSD with staff sponsorship
          b. Grant approval will be based on the objectives, anticipated benefits, number of students involved, and the Committee's confidence in the success of the project.
          c. Grant requests are limited to projects with educational/instructional merit.
          d. Grant requests will be judged on the innovative nature of the project and the extent to which the project will improve the existing methods of instruction.
          e. The Grant Committee will take into consideration the longevity of the program as well as the ability to duplicate the program in other classrooms.
          f. The Grant Committee will attempt to award grant monies as evenly across Bacich and Kent as possible.
          g. Materials purchased with grant funds become the property of the Kentfield School District and must remain at the school if the teacher/recipient leaves the District.
          h. All grants must comply with the school district guidelines and KIK and PTA objectives.
          i. Grant awards generally will not exceed $2,000. The Committee may consider larger requests, but our goal is to distribute the funds across a variety of different proposals, and we anticipate that most will fall under this amount.
          j. All funds must be spent within the 2021-2022 school year.
The Grant Committee will also consider whether other sources of funds may already exist and whether KIK/KSPTA Grants are the best source of funding.

This program adheres to the PTA and KIK principle that "a gift to the school should benefit the largest possible number of students."

Decisions are considered final and grant monies must be spent in accordance with the original grant request.
For a list of past grant awards, please visit the KIK Fund A Need web page or KSPTA Grant Awards.
If you have any questions, please contact Grant Coordinator, Lorin Bentley, at grants@kspta.org. Thank you and we look forward to receiving your proposal!
Quote from Farah Maisonneuve, 7th grade Science Teacher
"I feel so grateful to KIK for the huge role they are playing in outfitting the 7th grade science classroom. My cabinets are steadily filling up with high quality science equipment, without which it would be nearly impossible to provide students with hands-on labs and experiments. My most recent delivery includes glassware which is essential to studying the fun and exciting world of chemistry! Thank you to the parents who helped make this possible."
Quote from Michael Bessonette, Bacich IDEA Studio Teacher:
The KSPTA grants have supported the IDEA Studio with purchases of creative, design-focused items, like a 3D carver. Students love using CAD software to design and carve 3D tiles of their favorite Bacich memories.