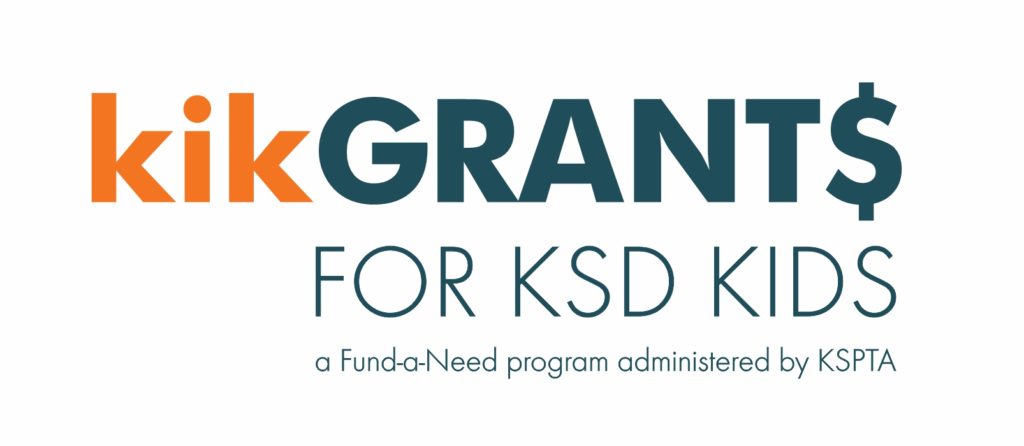 Program Overview

The Kentfield Schools Foundation (KIK) has raised funds for 2021-2022 school year for a grant program administered by the Kentfield Schools PTA. Through kikGRANT$, KIK and the KSPTA  offer specific funding and greatly enhance the educational experience of our students. KIK and the KSPTA encouraged innovative ideas for education and hope that grants will meet the needs of our schools, teachers, and students interested in trying new things in the classroom.
KSD staff members were invited to submit a grant proposal, and parents and students were invited to approach a staff member or administrator to sponsor a proposal.

Grant proposals were accepted and awarded in two rounds:
Grant awards announced: September 13, 2021
First Round:  Fund-a-Need Grants
Building Blocks
Kindergarten
Author Visit for All School Read & 50 Copies of Book
5th-8th grade
Supporting Social Emotional Learning with We Thinkers
K- 1st grade
Photo Printer for Art at Kent
5th-8th grade
Kimochi Training
K- 3rd grade
Scholastic News Subscriptions
5th – 8th grade
WildCare Enrichment Program
1st grade
Fidgets for Students
5th – 8th grade
Kent Tutors Marin Administrative Costs
2nd-4th & 8th grade
Kent Newspaper Club- The Kent Scoop
5th-8th grade
Pixton Subscription for all 3rd Graders
3rd  grade
Monitor for Improved Parent Communication
5th – 8th grade
Bacich Reading Intervention Materials & Training
3rd-4th grade
Refurbish Garden and Develop Chicken Education
5th-8th grade
Poetry With Claire Blotter
4th grade
Classroom Library Books
7th-8th grade
5th Grade Versatile Math Kit
5th grade
Supplemental Classroom Library Books
7th-8th grade
Math Picture Books for Fifth Grade
5th grade
Grant awards announced: December 13, 2021
Second Round:  Fund-a-Need Grants
Leveled Readers
Kindergarten
 
Nonfiction Books for Nonfiction Unit of Study in Language Arts
6th grade
High interest Leveled Reading Books
K- 4th grade
 
Kent Mock Newbery Club Books
5th-7th grade
Quality Leveled Books from E-I
1st grade
 

Historical Fiction Book Club

5th – 8th grade
Reading A-Z, year subscription
2nd grade
 
Nonfiction History Books Classrooms
5th – 8th grade
Social & Emotional Learning Tools Kimochi Characters Clover, Bella Rose, Hero and Books
1st, 3rd grade
 

Art Basics and Enhancement Supplies

5th, 7th, 8th grade
Reading A-Z
4th  grade
 
Second Language Popular Title Books
5th – 8th grade
Diverse Books
5th grade
 

Kent Readers Rise Together! Bookmarks

5th-8th grade
Book Club Enrichment Class Books
6th grade
 
Literary Nonfiction
8th grade
For questions about a proposal: please contact Grant Coordinator, Lorin Bentley, grants@kspta.org. ** Funds must be used before the end of the 2021-2022 school year.
For a list of past grant awards, please visit the KIK Fund A Need web page or KSPTA Grant Awards.
If you have any questions, please contact Grant Coordinator, Lorin Bentley, at grants@kspta.org. 
Quote from Farah Maisonneuve, 7th grade Science Teacher
"I feel so grateful to KIK for the huge role they are playing in outfitting the 7th grade science classroom. My cabinets are steadily filling up with high quality science equipment, without which it would be nearly impossible to provide students with hands-on labs and experiments. My most recent delivery includes glassware which is essential to studying the fun and exciting world of chemistry! Thank you to the parents who helped make this possible."
Quote from Michael Bessonette, Bacich IDEA Studio Teacher:
The KSPTA grants have supported the IDEA Studio with purchases of creative, design-focused items, like a 3D carver. Students love using CAD software to design and carve 3D tiles of their favorite Bacich memories.