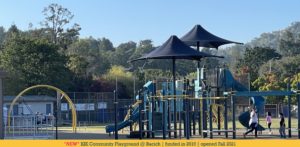 Climb, swing, slide and zip! We're celebrating the 2021-22 school year with the opening of our new KIK Community Playground at Bacich! Serving our students and Kentfield/Greenbrae community, the playground area and structure is entirely new and features the already popular swing addition and new Gaga pit.
We are so fortunate to have a structure that is modernized, serves all the children, and will be a safe and beautiful place for kids for years to come. We hope to involve the kids in officially naming the playground, so stay tuned! 
Tremendous gratitude to our Fund-a-Need 2019 Donors, KSD Board of Trustees, Principal Mary Ann Spitzer, Superintendent Raquel Rose, and especially Mr. Paul Miller for their hard work and dedication to this project that will be enjoyed by our Bacich Bears and entire community. KIK is thrilled that we were able to contribute to this fun, safe community playground—THANK YOU FOR ALL YOUR SUPPORT!